I find inspiration so many places; from my co-workers at HUGE, to cheap massages, and from glasses of wine to exquisite food. I'd like to use this space to showcase a few.
Moving to Brooklyn from Manhattan was one of the best decisions I have ever made for myself. Escaping the drama of the city and the tiny shoeboxes people called apartments is only the beginning. Our place in Boerum Hill is part of a community of artisans, bakeries, antique shops, bodegas and the occasional crazy guy (you know who you are wild purple hat man outside of Hanks Saloon).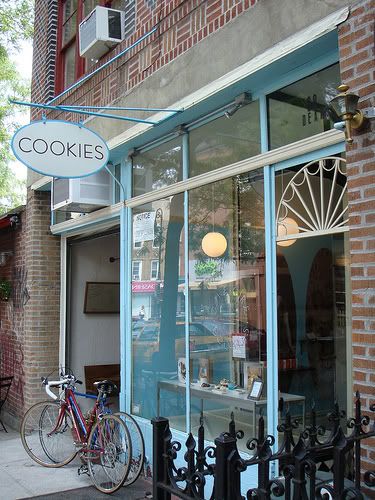 One of the gems my roommate and I frequent is One Girl Cookies. Not only is the decore gorgeous (robin egg blue walls with cream and chocolate furniture), their pasteries are to die for. Run by a bunch of women who are in their late 20s/early 30's, what really makes this a standout in an area filled with bakeries is that everything is so delicate. Thin and crisp chocolate waffers with just a dab of raspberry. Lemon shaffon cookies with sweet cream. And all of them small enough that you don't feel like a cow if you eat more than two.
But the creme-de-la-creme, the cherry on top, the BEST thing at One Girl is their Whoopie Pies.
Pumpkin spice cake filled with creamy frosting. These little monsters would be the death of me if I didn't have self control. Let me put it this way, two years ago for our housewarming party, we ordered three dozen to lay out for guests. They were gone in a half-hour! That's more that one whoopie pie a minute!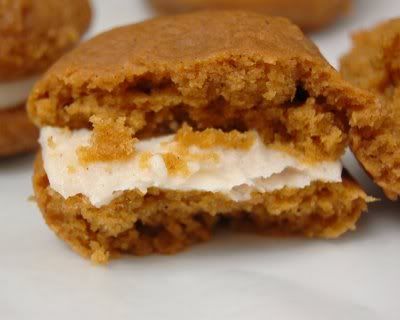 So, if you're ever in Boerum Hill, be sure to stop by. Your stomach will thank you.